Browse the Collection
Please search the collection as a library catalogue or database. For example, to retrieve all results related to sociology, you may want to use sociolog* as this will include books with any ending to the root ~ sociology, sociological, sociologist, and sociologists ~ in the title or description.

Together: The Science of Social Psychology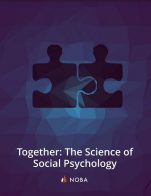 Description: The science of social psychology investigates the ways other people affect our thoughts, feelings, and behaviors. It is an exciting field of study because it is so familiar and relevant to our day-to-day lives. Social psychologists study a wide range of topics that can roughly be grouped into 5 categories: attraction, attitudes, peace & conflict, social influence, and social cognition. This textbook presents core concepts common to introductory social psychology courses. The 8 units include 27 modules covering key social psych topics such as research methods, group processes, social influence, and relationships.
Author: R. Biswas-Diener, Portland State University, E. Diener (Eds), Noba Textbook Series
Original source: nobaproject.com
Adoption (faculty): Contact us if you are using this textbook in your course
Adaptations: Support for adapting an open textbook
Open Textbook(s):
---