Browse the Collection
Please search the collection as a library catalogue or database. For example, to retrieve all results related to sociology, you may want to use sociolog* as this will include books with any ending to the root ~ sociology, sociological, sociologist, and sociologists ~ in the title or description.

Organizational Behavior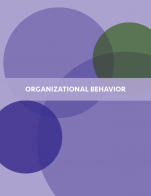 Description: This book is not be about giving students all the answers to every situation they may encounter when they start their first job or as they continue up the career ladder. Instead, this book gives students the vocabulary, framework, and critical thinking skills necessary to diagnose situations, ask tough questions, evaluate the answers received, and to act in an effective and ethical manner regardless of situational characteristics. Often, students taking organizational behavior (OB) either do not understand how important knowledge of OB can be to their professional careers, or they do understand and they want to put that knowledge into practice. Organizational Behavior takes a more experiential angle to the material to meet both of those needs. The experiential approach can be incorporated in the classroom primarily through the "OB Toolbox." This feature brings life to the concepts and allows students to not only see how the OB theories unfold, but to practice them, as well.
Author: Author removed at request of original publisher, Adaptation by the University of Minnesota
Original source: open.umn.edu
Adoption (faculty): Contact us if you are using this textbook in your course
Adaptations: Support for adapting an open textbook
Open Textbooks:

Organizational Behavior by Author removed at request of original publisher, Adaptation by the University of Minnesota is licensed under a Creative Commons Attribution-NonCommercial-ShareAlike 4.0 International License, except where otherwise noted.
---