Browse the Collection
Please search the collection as a library catalogue or database. For example, to retrieve all results related to sociology, you may want to use sociolog* as this will include books with any ending to the root ~ sociology, sociological, sociologist, and sociologists ~ in the title or description.

Leyendas y arquetipos del Romanticismo español, Segunda edición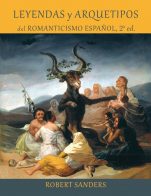 Description: Leyendas y arquetipos del Romanticismo español is an introduction to nineteenth-century Spanish literature with a thematic focus on legends and archetypes. It presents Romanticism in the context of nineteenth-century literary and social movements. It is designed as a first anthology for intermediate Spanish students at American universities. Although brief, it includes poetry, drama in verse and short story. The works have been selected for their literary interest and the social importance of their themes. They are all by canonical authors.
Author: Robert Sanders, Portland State University
Original source: pdxscholar.library.pdx.edu
Adoption (faculty): Contact us if you are using this textbook in your course
Adaptations: Support for adapting an open textbook
Open Textbook(s):
---