Browse the Collection
Please search the collection as a library catalogue or database. For example, to retrieve all results related to sociology, you may want to use sociolog* as this will include books with any ending to the root ~ sociology, sociological, sociologist, and sociologists ~ in the title or description.

Modern Pastry and Plated Dessert Techniques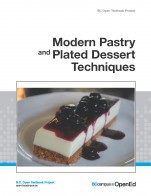 Description: Modern Pastry and Plated Dessert Techniques is one of a series of Culinary Arts books developed to support the training of students and apprentices in British Columbia's food service and hospitality industry. Although created with the Professional Cook and Baker programs in mind, these have been designed as a modular series, and there for can be used to support a wide variety of programs that offer training in food service skills.
Author: The BC Cook Articulation Committee, go2HR
Adoption (faculty): Contact us if you are using this textbook in your course
Adaptations: Support for adapting an open textbook
Open Textbook(s):
---