Browse the Collection
Please search the collection as a library catalogue or database. For example, to retrieve all results related to sociology, you may want to use sociolog* as this will include books with any ending to the root ~ sociology, sociological, sociologist, and sociologists ~ in the title or description.

Introduction to Criminal Investigation: Processes, Practices and Thinking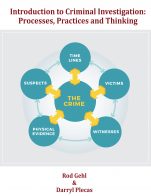 Description: Introduction to Criminal Investigation, Processes, Practices, and Thinking, as the title suggests, is a teaching text describing and segmenting criminal investigations into its component parts to illustrate the craft of criminal investigation. Delineating criminal investigation within the components of task-skills and thinking-skills, this book describes task-skills such incident response, crime scene management, evidence management, witness management, and forensic analysis, as essential foundations supporting the critical thinking-skills of offence validation and theory development for the creation of effective investigative plans aimed at forming reasonable grounds for belief. The goal of the text is to assist the reader in forming their own structured mental map of investigative thinking practices.
Author: Rod Gehl, Justice Institute of British Columbia, Darryl Plecas, University of the Fraser Valley
Original source: pressbooks.bccampus.ca
Adoption (faculty): Contact us if you are using this textbook in your course
Adaptations: Support for adapting an open textbook
Open Textbook(s):
---