Browse the Collection
Please search the collection as a library catalogue or database. For example, to retrieve all results related to sociology, you may want to use sociolog* as this will include books with any ending to the root ~ sociology, sociological, sociologist, and sociologists ~ in the title or description.

Antología Abierta de Literatura Hispana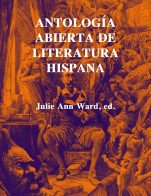 Description: Una antología crítica de textos literarios del mundo hispanohablante. Se enfoca en autores canónicos y también se intenta incluir voces marginadas. Cada texto tiene una introducción y anotaciones creadas por estudiantes. // A critical anthology of literary texts from the Spanish-speaking world. A focus on canonical authors and an attempt to include voices that have been marginalized. Each text includes an introduction and annotations created by students.
Author: Julie Anne Ward (ed.)
Original source: press.rebus.community
Adoption (faculty): Contact us if you are using this textbook in your course
Adaptations: Support for adapting an open textbook
Open Textbook(s):
---