Browse the Collection
Please search the collection as a library catalogue or database. For example, to retrieve all results related to sociology, you may want to use sociolog* as this will include books with any ending to the root ~ sociology, sociological, sociologist, and sociologists ~ in the title or description.

Exploring Movie Construction and Production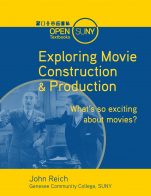 Description: Exploring Movie Construction and Production contains eight chapters of the major areas of film construction and production. The discussion covers theme, genre, narrative structure, character portrayal, story, plot, directing style, cinematography, and editing. Important terminology is defined and types of analysis are discussed and demonstrated. An extended example of how a movie description reflects the setting, narrative structure, or directing style is used throughout the book to illustrate building blocks of each theme. This approach to film instruction and analysis has proved beneficial to increasing students' learning, while enhancing the creativity and critical thinking of the student.
Author: John Reich, SUNY Genesee Community College
Original source: textbooks.opensuny.org
Adoption (faculty): Contact us if you are using this textbook in your course
Adaptations: Support for adapting an open textbook
Open Textbook(s):
---