Browse the Collection
Please search the collection as a library catalogue or database. For example, to retrieve all results related to sociology, you may want to use sociolog* as this will include books with any ending to the root ~ sociology, sociological, sociologist, and sociologists ~ in the title or description.

Forest Measurements: An Applied Approach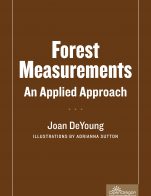 Description: This is a forest measurements textbook written for field technicians. Silvicultural applications and illustrations are provided to demonstrate the relevance of the measurements. Special "technique tips" for each skill are intended to help increase data collection accuracy and confidence. These include how to avoid common pitfalls, effective short cuts, and essentials for recording field data correctly. The emphasis is on elementary skills; it is not intended to be a timber cruising guide.
Author: Joan DeYoung, Mt. Hood Community College, OpenOregon
Original source: www.oercommons.org
Adoption (faculty): Contact us if you are using this textbook in your course
Adaptations: Support for adapting an open textbook
Open Textbook(s):
---