Browse the Collection
Please search the collection as a library catalogue or database. For example, to retrieve all results related to sociology, you may want to use sociolog* as this will include books with any ending to the root ~ sociology, sociological, sociologist, and sociologists ~ in the title or description.

Environmental Science: A Canadian Perspective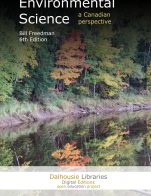 Description: This textbook is intended to provide the core elements of a curriculum for teaching environmental science at the introductory level in Canadian colleges and universities. This book is suitable for students beginning a program in environmental science, environmental studies, or sustainability. It is also appropriate for arts students who require a science elective, and for science students who require a non-major elective. This book was written from the ground-up to provide Canadian information and examples. This national context is integrated throughout the text, along with North American and global data that provide a broader perspective.
Author: Bill Freedman, Dalhousie University
Original source: dalspace.library.dal.ca
Adoption (faculty): Contact us if you are using this textbook in your course
Adaptations: Support for adapting an open textbook
Open Textbooks:

Environmental Science: A Canadian Perspective by Bill Freedman, Dalhousie University is licensed under a Creative Commons Attribution-NonCommercial 4.0 International License, except where otherwise noted.
---