Browse the Collection
Please search the collection as a library catalogue or database. For example, to retrieve all results related to sociology, you may want to use sociolog* as this will include books with any ending to the root ~ sociology, sociological, sociologist, and sociologists ~ in the title or description.

Line D: Organizational Skills Competency D-3: Read Drawings and Specifications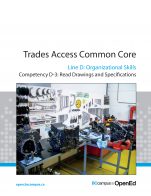 Description: Some of the most important documents used in the workplace are the technical drawings, diagrams, and schematics that specify how fabrication and construction tasks will be carried out, or describe the composition and assembly of equipment. One of the essential skills for anyone involved in a trade is the ability to correctly interpret drawings. If you are in a construction or fabrication industry, you will need to be able to examine a drawing, take information from it, and visualize the finished product. If you are in a service or maintenance industry, you will need to interpret exploded drawings in order to properly repair or assemble equipment. The following list of lines and competencies was generated with the goal of creating an entry-level trades training resource, while still offering the flexibility for lines to be used as stand-alone books. Line D – Organizational Skills. D-1 Solve Trades Mathematical Problems, D-2 Apply Science Concepts to Trades Applications, D-3 Read Drawings and Specifications, D-4 Use Codes, Regulations, and Standards, D-5 Use Manufacturer and Supplier Documentation, D-6 Plan Projects. Special thanks to CAPER-BC (https://caperbc.ca/) for creating the audio recording for each Competency.
Author: Camosun College
Adoption (faculty): Contact us if you are using this textbook in your course
Adaptations: Support for adapting an open textbook
Open Textbooks:

Line D: Organizational Skills Competency D-3: Read Drawings and Specifications by Camosun College is licensed under a Creative Commons Attribution 4.0 International License, except where otherwise noted.
---