Browse the Collection
Please search the collection as a library catalogue or database. For example, to retrieve all results related to sociology, you may want to use sociolog* as this will include books with any ending to the root ~ sociology, sociological, sociologist, and sociologists ~ in the title or description.

U.S. History: OpenStax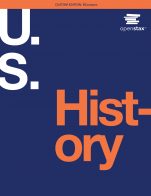 Description: Published by OpenStax College, U.S. History covers the breadth of the chronological history of the United States and also provides the necessary depth to ensure the course is manageable for instructors and students alike. U.S. History is designed to meet the scope and sequence requirements of most courses. The authors introduce key forces and major developments that together form the American experience, with particular attention paid to considering issues of race, class, and gender. The text provides a balanced approach to U.S. history, considering the people, events, and ideas that have shaped the United States from both the top down (politics, economics, diplomacy) and bottom up (eyewitness accounts, lived experience).
Author: P. Scott Corbett, PhD - Ventura College, Volker Janssen, PhD - California State University-Fullerton, John M. Lund, PhD - Keene State College, Todd Pfannestiel, PhD - Clarion University, Paul Vickery, PhD - Oral Roberts University, Sylvie Waskiewicz, PhD - Lead Editor
Adoption (faculty): Contact us if you are using this textbook in your course
Adaptations: Support for adapting an open textbook
Open Textbook(s):
---