Browse the Collection
Please search the collection as a library catalogue or database. For example, to retrieve all results related to sociology, you may want to use sociolog* as this will include books with any ending to the root ~ sociology, sociological, sociologist, and sociologists ~ in the title or description.

OER Research Toolkit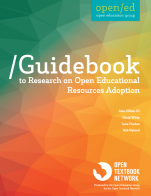 Description: The OER Research Toolkit is comprised of the OER Research Guidebook and several additional resources. The purpose of this guidebook is to provide ideas for how individual faculty members and those who support them (e.g., librarians, instructional designers, etc.) can research the effect of their adoption of open educational resources (OER). Clearly educational research is a challenging enterprise; this guidebook is not meant to replace the substantive courses and experiences that a PhD in educational research would provide. Rather, our hope is to provide some straightforward suggestions that could be implemented by OER adopters so as to help them identify what has happened as a result of their OER adoption. This is a creation of the OER Research Guidebook and was generously supported by the Open Textbook Network.
Author: John Hilton III, David Wiley, Lane Fischer, Rob Nyland, Open Textbook Network
Original source: openedgroup.org
Adoption (faculty): Contact us if you are using this textbook in your course
Adaptations: Support for adapting an open textbook
Open Textbook(s):
---