Browse the Collection
Please search the collection as a library catalogue or database. For example, to retrieve all results related to sociology, you may want to use sociolog* as this will include books with any ending to the root ~ sociology, sociological, sociologist, and sociologists ~ in the title or description.

Open Data Structures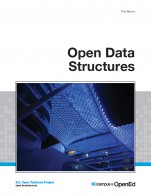 Description: There are plenty of books that teach introductory data structures. Some of them are very good. Most of them cost money, and the vast majority of computer science undergraduate students will shell out at least some cash on a data structures book.
Author: Pat Morin
Original source: www.opendatastructures.org
Adoption (faculty): Contact us if you are using this textbook in your course
Adaptations: Support for adapting an open textbook
Open Textbooks:

Open Data Structures by Pat Morin is licensed under a Creative Commons Attribution 4.0 International License, except where otherwise noted.
---