Browse the Collection
Please search the collection as a library catalogue or database. For example, to retrieve all results related to sociology, you may want to use sociolog* as this will include books with any ending to the root ~ sociology, sociological, sociologist, and sociologists ~ in the title or description.

Graphic Design and Print Production Fundamentals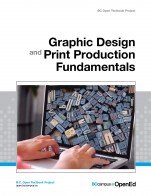 Description: This textbook -- written by a group of select experts with a focus on different aspects of the design process, from creation to production -- addresses the many steps of creating and then producing physical, printed, or other imaged products that people interact with on a daily basis. It covers the concept that, while most modern graphic design is created on computers using design software, the ideas and concepts don't stay on the computer. The ideas need to be completed in the computer software, then progress to an imaging (traditionally referred to as printing) process. Keywords are highlighted throughout and summarized in a Glossary at the end of the book, and each chapter includes exercises and suggested readings.
Author: Graphic Communications Open Textbook Collective, British Columbia Institute of Technology
Adoption (faculty): Contact us if you are using this textbook in your course
Adaptations: Support for adapting an open textbook
Open Textbook(s):
---