Browse the Collection
Please search the collection as a library catalogue or database. For example, to retrieve all results related to sociology, you may want to use sociolog* as this will include books with any ending to the root ~ sociology, sociological, sociologist, and sociologists ~ in the title or description.

Electronic Commerce: The Strategic Perspective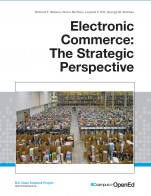 Description: This book contains eight chapters. Chapter Two briefly describes the technology that makes electronic commerce possible, while Chapter Three introduces the topic of Web strategy. The major functions of marketing are described in the next five chapters: Promotion (Chapter Four); Promotion and Purchase (Chapter Five); Distribution (Chapter Six); Service (Chapter Seven); and Pricing (Chapter Eight). The final chapter takes a broader, societal perspective and discusses the influence of electronic commerce on society.
Author: Richard T. Watson, Pierre Berthon, Leyland F. Pitt, George M. Zinkhan
Original source: globaltext.terry.uga.edu
Adoption (faculty): Contact us if you are using this textbook in your course
Adaptations: Support for adapting an open textbook
Open Textbook(s):
---