Browse the Collection
Please search the collection as a library catalogue or database. For example, to retrieve all results related to sociology, you may want to use sociolog* as this will include books with any ending to the root ~ sociology, sociological, sociologist, and sociologists ~ in the title or description.

Pressbooks Guide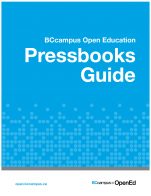 Description: The BCcampus Open Education Pressbooks Guide was created to provide information specific to the creation and adaptation of open textbooks and other open educational resources (OER) using the authoring platform, Pressbooks. It is intended to act as an adjunct to the very comprehensive Pressbooks Userguide. Specifically, this guide addresses the issues faced by authors of open textbooks, most of whom are using versions of Pressbooks for which the PressBooks Textbook plugin has been installed.
Author: Lauri Aesoph, BCcampus
Original source: opentextbc.ca
Adoption (faculty): Contact us if you are using this textbook in your course
Adaptations: Support for adapting an open textbook
Open Textbooks:

Pressbooks Guide by Lauri Aesoph, BCcampus is licensed under a Creative Commons Attribution 4.0 International License, except where otherwise noted.
---