Browse the Collection
Please search the collection as a library catalogue or database. For example, to retrieve all results related to sociology, you may want to use sociolog* as this will include books with any ending to the root ~ sociology, sociological, sociologist, and sociologists ~ in the title or description.

Adult Literacy Fundamentals Mathematics: Book 5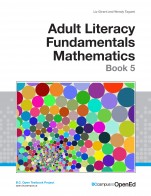 Description: This is book five in a six-book series on fundamental mathematics for adult learners. These books include glossaries, self tests, practice requests, grades records, and unit tests. Ancillary Resources include the Instructor's Manual.
Author: Liz Girard, Wendy Tagami , Liz Girard, Wendy Tagami
Original source: solr.bccampus.ca
Adoption (faculty): Contact us if you are using this textbook in your course
Adaptations: Support for adapting an open textbook
Open Textbook(s):
---