Browse the Collection
Please search the collection as a library catalogue or database. For example, to retrieve all results related to sociology, you may want to use sociolog* as this will include books with any ending to the root ~ sociology, sociological, sociologist, and sociologists ~ in the title or description.

Information Systems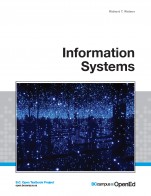 Description: Students need to understand systems and the systems concept, and they need to understand the role of ICT in enabling systems. Students will learn the characteristics of good systems (e.g., intuitive, likable, error-resistant, fast, flexible, and the like). Knowing the characteristics of good systems will permit students to demand well designed systems and to suggest how existing systems should be changed. Students need to understand the affordances, directions, and limits of hardware, software, and networks in both personal and organizational dimensions. They also need to appreciate that, as technical capabilities change and new ones arise, more opportunities to apply ICT for efficiency, effectiveness, and innovation are afforded. They need to understand the process for developing and implementing new or improved systems and the activities of IS professionals in this process.
Author: Richard T. Watson
Original source: globaltext.terry.uga.edu
Adoption (faculty): Contact us if you are using this textbook in your course
Adaptations: Support for adapting an open textbook
Open Textbook(s):
DOWNLOAD

Print PDF (.pdf) (2 MB)
PRINT Buy a print copy
---