Browse the Collection
Please search the collection as a library catalogue or database. For example, to retrieve all results related to sociology, you may want to use sociolog* as this will include books with any ending to the root ~ sociology, sociological, sociologist, and sociologists ~ in the title or description.

Liberté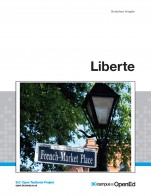 Description: Liberté, by Gretchen Angelo, is a first-year college French textbook with a true communicative approach. Each chapter is built around communicative strategies. Clearly defined objectives in communication, culture, and grammar are given at the start of each chapter, and summary exercises at the end allow students to measure their mastery of these objectives. It has been adopted by instructors at over twenty-five colleges and high schools. Gretchen Angelo teaches French language and literature at California State University, Los Angeles.
Author: Gretchen Angelo
Original source: www.lightandmatter.com
Adoption (faculty): Contact us if you are using this textbook in your course
Adaptations: Support for adapting an open textbook
Open Textbook(s):
---