Browse the Collection
Please search the collection as a library catalogue or database. For example, to retrieve all results related to sociology, you may want to use sociolog* as this will include books with any ending to the root ~ sociology, sociological, sociologist, and sociologists ~ in the title or description.

Fundamentals of Electrical Engineering I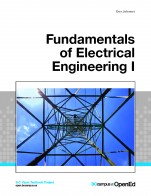 Description: The textbook focuses on the creation, manipulation, transmission, and reception of information by electronic means. Elementary signal theory; time- and frequency-domain analysis; Sampling Theorem. Digital information theory; digital transmission of analog signals; error-correcting codes.
Author: Don Johnson, Rice University
Original source: cnx.org
Adoption (faculty): Contact us if you are using this textbook in your course
Adaptations: Support for adapting an open textbook
Open Textbooks:

Fundamentals of Electrical Engineering I by Don Johnson, Rice University is licensed under a Creative Commons Attribution 4.0 International License, except where otherwise noted.
---