Browse the Collection
Please search the collection as a library catalogue or database. For example, to retrieve all results related to sociology, you may want to use sociolog* as this will include books with any ending to the root ~ sociology, sociological, sociologist, and sociologists ~ in the title or description.

Principles of Social Psychology - 1st International Edition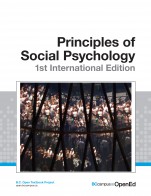 Description: The first International edition of this textbook provides students with an introduction to the basic concepts and principles of social psychology from an interactionist perspective. The presentation of classic studies and theories are balanced with insights from cutting-edge, contemporary research. An emphasis on real world examples and applications is intended to guide students to critically analyze their situations and social interactions in order to put their knowledge to effective use.
Author: Dr. Rajiv Jhangiani, Kwantlen Polytechnic University, Dr. Hammond Tarry, Capilano University, Adler School of Professional Psychology, Dr. Charles Stangor, University of Maryland
Original source: open.bccampus.ca
Adoption (faculty): Contact us if you are using this textbook in your course
Adaptations: Support for adapting an open textbook
Open Textbook(s):
---