Browse the Collection
Please search the collection as a library catalogue or database. For example, to retrieve all results related to sociology, you may want to use sociolog* as this will include books with any ending to the root ~ sociology, sociological, sociologist, and sociologists ~ in the title or description.

Essential Skills Companion Kit for Culinary Arts Trades Training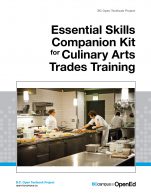 Description: The Essential Skills Companion Kit to Culinary Arts Trades Training was developed to complement technical Culinary Arts Trades Training. The various activity sets are designed to reinforce academic information that students are required to know during their training. The Content Experts provided the Curriculum Development Team with themes and the curriculum was created to practice Essential Skills such as Reading Text, Document Use, Thinking Skills, Oral Communication and Working with Others.
Author: Marlin Ratch, Francesca de Bastiani, Shelby Desjarlais, Chef Andrew George, Chef Nathan Hyam, Chef Chris Monkman, Jason Forseth
Adoption (faculty): Contact us if you are using this textbook in your course
Adaptations: Support for adapting an open textbook
Open Textbook(s):
---