Browse the Collection
Please search the collection as a library catalogue or database. For example, to retrieve all results related to sociology, you may want to use sociolog* as this will include books with any ending to the root ~ sociology, sociological, sociologist, and sociologists ~ in the title or description.

Global Corruption: Law, Theory & Practice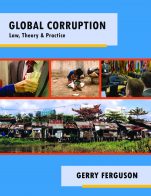 Description: Created as part of the UNODC's Anti-Corruption Academic Initiative (ACAD), Global Corruption: Law, Theory & Practice is a key resource for lawyers, public officials, and business persons of tomorrow on anti-corruption laws and strategies. This book has been specifically created to make it easier for professors to offer a law school course on global corruption. The first chapter sets out the general context of global corruption: its nature and extent, and some views on its historical, social, economic and political dimensions. Each subsequent chapter sets out international standards and requirements in respect to combating corruption – mainly in the UN Convention Against Corruption (UNCAC) and the OECD Bribery of Foreign Officials Convention (OECD Convention). The laws of the United States and United Kingdom are then set out as examples of how those Convention standards and requirements are met in two influential jurisdictions. Finally, the law of Canada is set out.
Author: Gerry Ferguson, University of Victoria
Original source: dspace.library.uvic.ca
Adoption (faculty): Contact us if you are using this textbook in your course
Adaptations: Support for adapting an open textbook
Open Textbooks:

Global Corruption: Law, Theory & Practice by Gerry Ferguson, University of Victoria is licensed under a Creative Commons Attribution-NonCommercial-ShareAlike 4.0 International License, except where otherwise noted.
---