Browse the Collection
Please search the collection as a library catalogue or database. For example, to retrieve all results related to sociology, you may want to use sociolog* as this will include books with any ending to the root ~ sociology, sociological, sociologist, and sociologists ~ in the title or description.

Nature of Geographic Information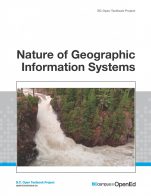 Description: The purpose of this text is to promote understanding of the Geographic Information Science and Technology enterprise (GIS&T, also known as "geospatial").
Author: David DiBiase, Penn State
Adoption (faculty): Contact us if you are using this textbook in your course
Adaptations: Support for adapting an open textbook
Open Textbooks:

Nature of Geographic Information by David DiBiase, Penn State is licensed under a Creative Commons Attribution-NonCommercial-ShareAlike 4.0 International License, except where otherwise noted.
---