Browse the Collection
Please search the collection as a library catalogue or database. For example, to retrieve all results related to sociology, you may want to use sociolog* as this will include books with any ending to the root ~ sociology, sociological, sociologist, and sociologists ~ in the title or description.

Adaptation Guide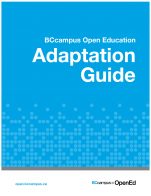 Description: The BCcampus Open Education Adaptation Guide is a practical guide to adapting or revising open textbooks using the PressBooks platform. Included are tips to revising this OER, how to use the Pressbooks publishing platform, and general information on open textbooks and other open educational resources (OER).
Author: Lauri Aesoph, BCcampus
Original source: opentextbc.ca
Adoption (faculty): Contact us if you are using this textbook in your course
Adaptations: Support for adapting an open textbook
Open Textbooks:

Adaptation Guide by Lauri Aesoph, BCcampus is licensed under a Creative Commons Attribution 4.0 International License, except where otherwise noted.
---