Browse the Collection
Please search the collection as a library catalogue or database. For example, to retrieve all results related to sociology, you may want to use sociolog* as this will include books with any ending to the root ~ sociology, sociological, sociologist, and sociologists ~ in the title or description.

Pulling Together: Foundations Guide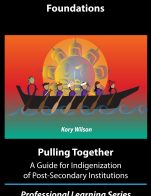 Description: The Foundations Guide is part of an open professional learning series developed for staff across post-secondary institutions in British Columbia. These guides are the result of the Indigenization Project, a collaboration between BCcampus and the Ministry of Advanced Education, Skills and Training. The project was supported by a steering committee of Indigenous education leaders from BC universities, colleges, and institutes, the First Nations Education Steering Committee, the Indigenous Adult and Higher Learning Association, and Métis Nation BC. These guides are intended to support the systemic change occurring across post-secondary institutions through Indigenization, decolonization, and reconciliation.
Author: Kory Wilson
Original source: opentextbc.ca
Adoption (faculty): Contact us if you are using this textbook in your course
Adaptations: Support for adapting an open textbook
Open Textbooks:

Pulling Together: Foundations Guide by Kory Wilson is licensed under a Creative Commons Attribution-NonCommercial 4.0 International License, except where otherwise noted.
---