Browse the Collection
Please search the collection as a library catalogue or database. For example, to retrieve all results related to sociology, you may want to use sociolog* as this will include books with any ending to the root ~ sociology, sociological, sociologist, and sociologists ~ in the title or description.

Beginning Excel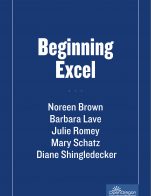 Description: This textbook was written for a community college introductory course in spreadsheets utilizing Microsoft Excel. While the figures shown utilize Excel 2016, the textbook was written to be applicable to other versions of Excel as well. The book introduces new users to the basics of spreadsheets and is appropriate for students in any major who have not used Excel before.
Author: Noreen Brown, Barbara Lave, Julie Romey, Mary Schatz, Diane Shingledecker, OpenOregon
Original source: www.oercommons.org
Adoption (faculty): Contact us if you are using this textbook in your course
Adaptations: Support for adapting an open textbook
Open Textbook(s):
---