Browse the Collection
Please search the collection as a library catalogue or database. For example, to retrieve all results related to sociology, you may want to use sociolog* as this will include books with any ending to the root ~ sociology, sociological, sociologist, and sociologists ~ in the title or description.

Medicines by Design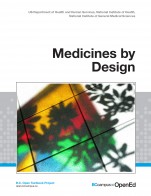 Description: Medicines By Design aims to explain how scientists unravel the many different ways medicines work in the body and how this information guides the hunt for drugs of the future. Pharmacology is a broad discipline encompassing every aspect of the study of drugs, including their discovery and development and the testing of their action in the body. Much of the most promising pharmacological research going on at universities across the country is sponsored by the National Institute of General Medical Sciences (NIGMS), a component of the National Institutes of Health (NIH), U.S. Department of Health and Human Services. Working at the crossroads of chemistry, genetics, cell biology, physiology, and engineering, pharmacologists are fighting disease in the laboratory and at the bedside.
Author: US Department of Health and Human Services, National Institute of Health, National Institute of General Medical Sciences
Original source: publications.nigms.nih.gov
Adoption (faculty): Contact us if you are using this textbook in your course
Adaptations: Support for adapting an open textbook
Open Textbook(s):
---