Browse the Collection
Please search the collection as a library catalogue or database. For example, to retrieve all results related to sociology, you may want to use sociolog* as this will include books with any ending to the root ~ sociology, sociological, sociologist, and sociologists ~ in the title or description.

Digital Foundations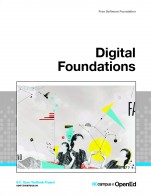 Description: This book was written by two artist educators who teach digital art and design studio foundation classes. While teaching classes that take place in software laboratories, we noticed that many of our students expected to learn to use software, but gave little consideration to aesthetics or art and design history. A typical first day question is, "Are we going to learn Photoshop in this class?" This book is a mash-up of the Bauhaus Basic Course and open source software such as Inkscape, Gimp, Firefox, and Processing. We have taken some of the visual principles and exercises from the Bauhaus Basic Course and adapted them into exercises for these applications.
Author: Xtine Burrough, Michael Mandiberg
Original source: write.flossmanuals.net
Adoption (faculty): Contact us if you are using this textbook in your course
Adaptations: Support for adapting an open textbook
Open Textbook(s):
---