Browse the Collection
Please search the collection as a library catalogue or database. For example, to retrieve all results related to sociology, you may want to use sociolog* as this will include books with any ending to the root ~ sociology, sociological, sociologist, and sociologists ~ in the title or description.

First Aid for Canada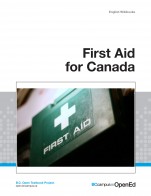 Description: First aid is the provision of immediate care to a victim with an injury of illness, usually effected by a lay person, and performed within a limited skill range. First aid is normally performed until the injury or illness is satisfactorily dealt with (such as in the case of small cuts, minor bruises, and blisters) or until the next level of care, such as an ambulance or doctor, arrives. This book is a Canadian version of the original at Wikibooks. All references to protocols which do not comply with resuscitation standards in Canada have been removed.
Author: Wikibooks
Original source: en.wikibooks.org
Adoption (faculty): Contact us if you are using this textbook in your course
Adaptations: Support for adapting an open textbook
Open Textbook(s):
WEBSITE Read this book online

DOWNLOAD

Print (.pdf) (9 MB)
PRINT Buy a print copy
---