Browse the Collection
Please search the collection as a library catalogue or database. For example, to retrieve all results related to sociology, you may want to use sociolog* as this will include books with any ending to the root ~ sociology, sociological, sociologist, and sociologists ~ in the title or description.

Business Ethics: OpenStax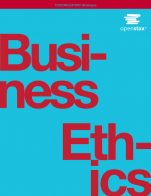 Description: Business Ethics is designed to meet the scope and sequence requirements of the single-semester business ethics course. This title includes innovative features designed to enhance student learning, including case studies, application scenarios, and links to video interviews with executives, all of which help instill in students a sense of ethical awareness and responsibility.
Author: OpenStax College
Original source: openstax.org
Adoption (faculty): Contact us if you are using this textbook in your course
Adaptations: Support for adapting an open textbook
Open Textbooks:

Business Ethics: OpenStax by OpenStax College is licensed under a Creative Commons Attribution 4.0 International License, except where otherwise noted.
---