Browse the Collection
Please search the collection as a library catalogue or database. For example, to retrieve all results related to sociology, you may want to use sociolog* as this will include books with any ending to the root ~ sociology, sociological, sociologist, and sociologists ~ in the title or description.

Concepts of Biology-1st Canadian Edition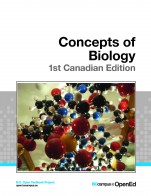 Description: In this survey text, directed at those not majoring in biology, we dispel the assumption that a little learning is a dangerous thing. We hope that by skimming the surface of a very deep subject, biology, we may inspire you to drink more deeply and make more informed choices relating to your health, the environment, politics, and the greatest subject that are all of us are entwined in, life itself.
Author: Charles Molnar, Jane Gair, Samantha Fowler, Rebecca Roush, James Wise, Yael Avissar, Jung Choi, Jean DeSaix, Vladimir Jurukovski, Robert Wise, Connie Rye, OpenStax College
Adoption (faculty): Contact us if you are using this textbook in your course
Adaptations: Support for adapting an open textbook
Open Textbook(s):
---