Browse the Collection
Please search the collection as a library catalogue or database. For example, to retrieve all results related to sociology, you may want to use sociolog* as this will include books with any ending to the root ~ sociology, sociological, sociologist, and sociologists ~ in the title or description.

Media Innovation and Entrepreneurship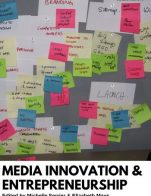 Description: This is a modular open textbook designed for entrepreneurial journalism, media innovation, and related courses. It covers the following topics: Developing the Entrepreneurial Mindset, Ideation, Customer Discovery, Business Models for Content & Technology Ventures, Nonprofit Model Development, Freelancing as Entrepreneurship and Consulting as Business Models, Startup Funding, Pitching Ideas, Marketing Your Venture to Audiences, and Entrepreneurship Abroad: Cultural and International Perspectives and Challenges.
Author: Michelle Ferrier, Elizabeth Mays
Original source: projects.rebus.community
Adoption (faculty): Contact us if you are using this textbook in your course
Adaptations: Support for adapting an open textbook
Open Textbooks:

Media Innovation and Entrepreneurship by Michelle Ferrier, Elizabeth Mays is licensed under a Creative Commons Attribution 4.0 International License, except where otherwise noted.
---