Browse the Collection
Please search the collection as a library catalogue or database. For example, to retrieve all results related to sociology, you may want to use sociolog* as this will include books with any ending to the root ~ sociology, sociological, sociologist, and sociologists ~ in the title or description.

Business Communication for Success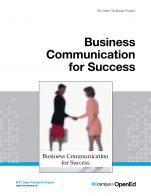 Description: Business Communication for Success (BCS) provides a comprehensive, integrated approach to the study and application of written and oral business communication to serve both student and professor. The text includes a number of features such as learning objectives, exercises, real world examples, key terms, and post-chapter assessments. Each chapter is self-contained, allowing for mix-and-match flexibility and custom or course-specific design. The first three chapters form the core foundation for the study of oral and written business communication. The next sequence of chapters focus on the process of writing, then oral performance with an emphasis on results. The final sequence of chapters focus on contexts where business communication occurs, from interpersonal to intercultural and from groups to leadership.
Author: University of Minnesota Libraries' Publishing Services (Adapted version)
Original source: open.umn.edu
Adoption (faculty): Contact us if you are using this textbook in your course
Adaptations: Support for adapting an open textbook
Open Textbook(s):
---