Browse the Collection
Please search the collection as a library catalogue or database. For example, to retrieve all results related to sociology, you may want to use sociolog* as this will include books with any ending to the root ~ sociology, sociological, sociologist, and sociologists ~ in the title or description.

Practical Meteorology: An Algebra-based Survey of Atmospheric Science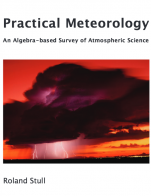 Description: The author designed this book for students and professionals who want to understand and apply basic meteorological concepts, but who don't need to derive equations. To make this book accessible to more people, the author converted the equations into algebra. With algebraic approximations to the atmosphere, you can see the physical meaning of each term and you can plug in numbers to get usable answers. No previous knowledge of meteorology is needed — the book starts from the basics. Your background should include algebra, trig, and classical physics. This book could serve the fields of Atmospheric Science, Meteorology, Environmental Science, Engineering, Air Quality, Climatology, and Geography. Readers like you asked to see solved examples, to enhance your understanding and speed your ability to apply the concepts to your own situations. To fill this need, the author added "Sample Application" boxes for almost every equation in the book. This book is designed to be both a textbook and a reference. As a textbook, the end of each chapter includes extensive homework exercises in categories inspired by Bloom's taxonomy of learning actions: "Broaden Knowledge & Comprehension"; "Apply"; "Evaluate & Analyze"; and "Synthesize".
Author: Roland Stull, UBC
Original source: www.eos.ubc.ca
Adoption (faculty): Contact us if you are using this textbook in your course
Adaptations: Support for adapting an open textbook
Open Textbooks:

Practical Meteorology: An Algebra-based Survey of Atmospheric Science by Roland Stull, UBC is licensed under a Creative Commons Attribution-NonCommercial-ShareAlike 4.0 International License, except where otherwise noted.
---