Browse the Collection
Please search the collection as a library catalogue or database. For example, to retrieve all results related to sociology, you may want to use sociolog* as this will include books with any ending to the root ~ sociology, sociological, sociologist, and sociologists ~ in the title or description.

Active Calculus, 2017 edition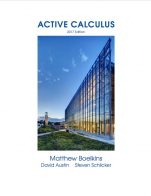 Description: Active Calculus (2017 edition) may be used as a stand-alone textbook for a standard first semester college calculus course or as a supplement to a more traditional text. Chapters 1–4 address the typical topics for differential calculus, while Chapters 5–8 provide the standard topics of integral calculus, including a chapter on differential equations (Chapter 7) and on infinite series (Chapter 8). In Active Calculus, we endeavor to actively engage students in learning the subject through an activity-driven approach in which the vast majority of the examples are completed by students. We pose problems or situations, consider possibilities, and then ask students to investigate and explore. It is not the intent of this text for the instructor or author to demonstrate to students that the ideas of calculus are coherent and true, but rather for students to encounter these ideas in a supportive, leading manner that enables them to begin to understand for themselves why calculus is both coherent and true.
Author: Matthew Boelkins, David Austin, Steven Schlicker, Grand Valley State University
Original source: faculty.gvsu.edu
Adoption (faculty): Contact us if you are using this textbook in your course
Adaptations: Support for adapting an open textbook
Open Textbook(s):
---