Browse the Collection
Please search the collection as a library catalogue or database. For example, to retrieve all results related to sociology, you may want to use sociolog* as this will include books with any ending to the root ~ sociology, sociological, sociologist, and sociologists ~ in the title or description.

Introductory Business Statistics (Tiemann)
Good news! This book has been updated and revised. An adaptation of this book can be found here: openlibrary.ecampusontario.ca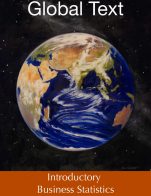 Description: The book "Introductory Business Statistics" by Thomas K. Tiemann explores the basic ideas behind statistics, such as populations, samples, the difference between data and information, and most importantly sampling distributions. The author covers topics including descriptive statistics and frequency distributions, normal and t-distributions, hypothesis testing, t-tests, f-tests, analysis of variance, non-parametric tests, and regression basics. Using real-world examples throughout the text, the author hopes to help students understand how statistics works, not just how to "get the right number."
Author: Thomas K. Tiemann, Elon University
Original source: globaltext.terry.uga.edu
Adoption (faculty): Contact us if you are using this textbook in your course
Adaptations: Support for adapting an open textbook
Open Textbooks:
DOWNLOAD

Print (.pdf) (2 MB)
PRINT Buy a print copy

DOWNLOAD

EDITABLE: Open Document Text file (.odt) (1 MB)

Introductory Business Statistics (Tiemann) by Thomas K. Tiemann, Elon University is licensed under a Creative Commons Attribution 4.0 International License, except where otherwise noted.
---
There are currently no reviews for this book.
Be the first to Review this book
Review the Canadian edition of this book here
---