Browse the Collection
Please search the collection as a library catalogue or database. For example, to retrieve all results related to sociology, you may want to use sociolog* as this will include books with any ending to the root ~ sociology, sociological, sociologist, and sociologists ~ in the title or description.

Building a Competitive First Nation Investment Climate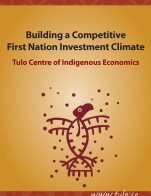 Description: This is the first edition of the open text book Building a Competitive Investment Climate on First Nation Lands. This textbook is for students who are First Nation and tribal government employees or students who would like to work for or with First Nation and tribal governments. The purpose of this textbook is to help interested First Nation and tribal governments build a competitive investment climate. Work began on this text book in early 2012 with a generous grant from the Donner Canadian Foundation. Financial support was also provided by the First Nations Tax Commission and the Tulo Centre.
Author: Tulo Centre of Indigenous Economics
Original source: www.tulo.ca
Adoption (faculty): Contact us if you are using this textbook in your course
Adaptations: Support for adapting an open textbook
Open Textbook(s):
---