Browse the Collection
Please search the collection as a library catalogue or database. For example, to retrieve all results related to sociology, you may want to use sociolog* as this will include books with any ending to the root ~ sociology, sociological, sociologist, and sociologists ~ in the title or description.

Writing for Strategic Communication Industries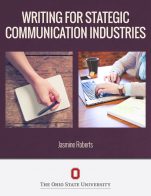 Description: Good writing skills are important in today's competitive work environment. This is especially the case for communication-related professions such as public relations, brand communication, journalism, and marketing. Writing for Strategic Communication Industries emphasizes practical application of academic inquiry to help readers improve their writing skills. This book has straightforward chapters that use real-world examples to illustrate key points. It discusses different writing styles and techniques and provides examples of communication materials such as press releases, creative briefs, feature articles, and more. It includes embedded videos of insights from communication professionals, tips on pitching to the media, and a collection of popular sources for further explanation.
Author: Jasmine Roberts, The Ohio State University
Original source: open.umn.edu
Adoption (faculty): Contact us if you are using this textbook in your course
Adaptations: Support for adapting an open textbook
Open Textbook(s):
---