Browse the Collection
Please search the collection as a library catalogue or database. For example, to retrieve all results related to sociology, you may want to use sociolog* as this will include books with any ending to the root ~ sociology, sociological, sociologist, and sociologists ~ in the title or description.

Web Literacy for Student Fact-Checkers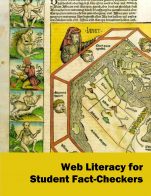 Description: This is an unabashedly practical guide for the student fact-checker. It supplements generic information literacy with the specific web-based techniques that can get you closer to the truth on the web more quickly. We will show you how to use date filters to find the source of viral content, how to assess the reputation of a scientific journal in less than five seconds, and how to see if a tweet is really from the famous person you think it is or from an impostor. We'll show you how to find pages that have been deleted, figure out who paid for the web site you're looking at, and whether the weather portrayed in that viral video actual matches the weather in that location on that day. We'll show you how to check a Wikipedia page for recent vandalism, and how to search the text of almost any printed book to verify a quote. We'll teach you to parse URLs and scan search result blurbs so that you are more likely to get to the right result on the first click. And we'll show you how to avoid baking confirmation bias into your search terms. In other words, we'll teach you web literacy by showing you the unique opportunities and pitfalls of searching for truth on the web. Crazy, right?
Author: Michael A. Caulfield, Washington State University Vancouver
Adoption (faculty): Contact us if you are using this textbook in your course
Adaptations: Support for adapting an open textbook
Open Textbooks:

Web Literacy for Student Fact-Checkers by Michael A. Caulfield, Washington State University Vancouver is licensed under a Creative Commons Attribution 4.0 International License, except where otherwise noted.
---