Browse the Collection
Please search the collection as a library catalogue or database. For example, to retrieve all results related to sociology, you may want to use sociolog* as this will include books with any ending to the root ~ sociology, sociological, sociologist, and sociologists ~ in the title or description.

Chemistry - Atoms First: OpenStax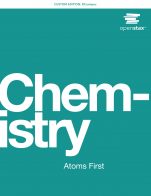 Description: Chemistry - Atoms First is a peer-reviewed, openly licensed introductory textbook produced through a collaborative publishing partnership between OpenStax and the University of Connecticut and UConn Student Government Association. This title is an adaptation of the OpenStax Chemistry text and covers scope and sequence requirements of the two-semester general chemistry course. Reordered to fit an atoms first approach, this title introduces atomic and molecular structure much earlier than the traditional approach, delaying the introduction of more abstract material so students have time to acclimate to the study of chemistry. Chemistry: Atoms First also provides a basis for understanding the application of quantitative principles to the chemistry that underlies the entire course.
Author: Edward J. Neth, University of Connecticut, Paul Flowers, University of North Carolina at Pembroke, Klaus Theopold, University of Delaware, Richard Langley, Stephen F. Austin State University
Adoption (faculty): Contact us if you are using this textbook in your course
Adaptations: Support for adapting an open textbook
Open Textbook(s):
---