Browse the Collection
Please search the collection as a library catalogue or database. For example, to retrieve all results related to sociology, you may want to use sociolog* as this will include books with any ending to the root ~ sociology, sociological, sociologist, and sociologists ~ in the title or description.

Teaching in a Digital Age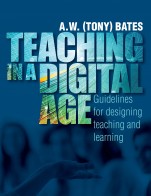 Description: The book examines the underlying principles that guide effective teaching in an age when everyone,and in particular the students we are teaching, are using technology. A framework for making decisions about your teaching is provided, while understanding that every subject is different, and every instructor has something unique and special to bring to their teaching. The book enables teachers and instructors to help students develop the knowledge and skills they will need in a digital age: not so much the IT skills, but the thinking and attitudes to learning that will bring them success. This resource includes translated versions in French, Spanish, Vietnamese, Chinese, and Portuguese.
Author: A.W. (Tony) Bates
Adoption (faculty): Contact us if you are using this textbook in your course
Adaptations: Support for adapting an open textbook
Open Textbook(s):
---
1. Reviewed by:

Arlene Corrigan

Institution: Algonquin College
Title/Position: Professor; Learning, Teaching, and Curriculum Liaison
Overall Rating:

4.7

out of

5

Date:
License:

Q: The text covers all areas and ideas of the subject appropriately and provides an effective index and/or glossary

The text addresses all areas and issues associated with teaching in a digital age. Dr Bates addresses the challenges associated with traditional teaching approaches and offers suggestions for updating those approaches. He begins by providing a context and rationale for the need to change, compares traditional approaches with current ones, and then proceeds to offer teaching approaches that will bring educators into the digital age.
Along the way, readers are continually invited to participate in reflective activities that have them examining and questioning their own practice. This is an important consideration if the necessary changes to teaching practice are to take place.

Subsequent editions might delve further into specific areas such as learning theories, and research-based teaching and learning strategies.
There was also little or no mention of learning styles (except for a reference in the bibliography). Educators have been on the 'learning style' bandwagon for some time now despite the recent revelations that the research on learning styles is flawed. Dr Bates might address this so that teachers can update their practice.

Comprehensiveness Rating: 4 out of 5

Q: Content is accurate, error-free and unbiased

Content is accurate, error-free, and unbiased.



Content Accuracy Rating: 5 out of 5

Q: Content is up-to-date, but not in a way that will quickly make the text obsolete within a short period of time. The text is written and/or arranged in such a way that necessary updates will be relatively easy and straightforward to implement

I would say that the content is MORE than up-to-date. It is actually quite anticipatory of future content as well. The fact that this is an open resource, with interactive activities, and updated podcasts, make this a growing, changing text. It won't ever be obsolete, but will incorporate new issues and situations that arise.
There is a sense that we need to return to the book for updates if we want to remain current.

Relevance Rating: 5 out of 5

Q: The text is written in lucid, accessible prose, and provides adequate context for any jargon/technical terminology used

The text is easily accessible, even to the educator who is not quite ready for epistemology and theories of learning. The practical nature of the text makes it more accessible to everyone. The narrative is almost conversational--it is as if Dr Bates is in a room with the reader, expecting active participation and responses. This is just the approach necessary if change is to happen.

Clarity Rating: 5 out of 5

Q: The text is internally consistent in terms of terminology and framework

The text is fairly consistent in terms of terminology and framework. Chapter 9 might be better placed in the earlier conversations about approaches and methods of teaching.
While Dr Bates offers a very practical approach and is credible in his efforts, there are places in the text where live examples could be used to model the talk and enhance the consistency of the messages. For example, when I taught chapter 7 to my class of college educators we created a virtual jigsaw (in Google Docs) to compare the various media methods. Students also created lessons (Google Slides) to summarize some chapters. We used metacognitive skills throughout to reflect, and assess our reflections. It was these kinds of activities that consolidated understanding and new learning.

Consistency Rating: 4 out of 5

Q: The text is easily and readily divisible into smaller reading sections that can be assigned at different points within the course (i.e., enormous blocks of text without subheadings should be avoided). The text should not be overly self-referential, and should be easily reorganized and realigned with various subunits of a course without presenting much disruption to the reader.

I found the short sub-units of this text very helpful in assigning the sections relevant to our situation. For example, while my class addressed the trends in open education (chapter 10: OERs, and chapter 5: MOOCs), it was apparent that this audience was not ready to assess these yet. It was helpful to be able to introduce these ideas and address specific points that they were familiar with. The smaller reading sections and subheadings made it easier to be flexible.
This text offered better alignment to our course description than the one currently in use.

Modularity Rating: 5 out of 5

Q: The topics in the text are presented in a logical, clear fashion

Topics were presented in a logical sequence for the most part. I did find that Chapter 9 (9.1 and 9.2) was better addressed earlier on, but 9.3 -9.5 seem to be well-placed.

Organization Rating: 4 out of 5

Q: The text is free of significant interface issues, including navigation problems, distortion of images/charts, and any other display features that may distract or confuse the reader

I have used this OER in a class as well as in several conference presentations where participants had little time to prepare to download the resource. I did not encounter any interface issues, navigation problems, or display issues in any of these situations. I was pleasantly surprised at how easy it was to access the text, and to navigate the chapters.
This feature also gives leverage to the role of OERs---they certainly make learning more accessible in a variety of situations!

Interface Rating: 5 out of 5

Q: The text contains no grammatical errors

I did not find any grammatical errors.

Grammar Rating: 5 out of 5

Q: The text is not culturally insensitive or offensive in any way. It should make use of examples that are inclusive of a variety of races, ethnicities, and backgrounds

The text is not culturally insensitive in any way. It did make use of examples that are inclusive of a variety of races, ethnicities, and backgrounds.
I was pleasantly surprised to see a familiar face in the Connections example (1.2). I was a principal at Taylor's Education Group in Malaysia for 3 years and know Daniel Tan, whose profile is highlighted. I feel that Dr Bates went to great efforts to be inclusive.

Cultural Relevance Rating: 5 out of 5

Q: Are there any other comments you would like to make about this book, for example, its appropriateness in a Canadian context or specific updates you think need to be made?

I think this book is an excellent guide to help teachers make the necessary changes to their practice so that they can be effective teachers in the digital age. The text is more than just a practical guide...it is a (gentle) call to action: gentle, because it is like having a face to face conversation with someone who is experienced, knowledgeable, and patient. Dr Bates knows that the secret to teaching is not just telling but asking. He continually asks us to examine our own practice, relate the new learnings to our own practice, and consider changing our practice.
This approach models exactly how we should teach in a digital age.