Browse the Collection
Please search the collection as a library catalogue or database. For example, to retrieve all results related to sociology, you may want to use sociolog* as this will include books with any ending to the root ~ sociology, sociological, sociologist, and sociologists ~ in the title or description.

Media Studies 101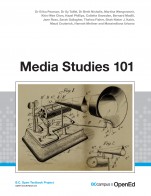 Description: Media Studies 101 is the open educational resource for media studies studies in New Zealand, Australia, and Pacifica. We have constructed this text so it can be read in a number of ways. You may wish to follow the structured order of 'chapters' like you would in a traditional printed textbook. Each section builds on and refers back to previous sections to build up your knowledge and skills. Alternatively, you may want to go straight to the section you are interested in -- links will help guide you back to definitions and key ideas if you need to refresh your knowledge or understand a new concept.
Author: Dr Erika Pearson, Dr Sy Taffel, Dr Brett Nicholls, Martina Wengenmeir, Khin-Wee Chen, Hazel Phillips, Collette Snowden, Bernard Madill, Jane Ross, Sarah Gallagher, Thelma Fisher, Shah Nister J. Kabir, Maud Ceuterick, Hannah Mettner, Massimiliana Urbano
Original source: mediatexthack.wordpress.com
Adoption (faculty): Contact us if you are using this textbook in your course
Adaptations: Support for adapting an open textbook
Open Textbook(s):
---