Browse the Collection
Please search the collection as a library catalogue or database. For example, to retrieve all results related to sociology, you may want to use sociolog* as this will include books with any ending to the root ~ sociology, sociological, sociologist, and sociologists ~ in the title or description.

Introduction to Financial Accounting - Third Edition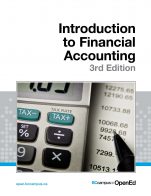 Description: Based on International Financial Reporting Standards, this textbook was written by David Annand, EdD, MBA, CPA, CA, and Professor of Accounting in the Faculty of Business at Athabasca University. Each chapter includes questions and problems for review and feedback, as well as the solutions. This book also includes multiple ancillary resources, including a student solutions manual and workbook, an instructor solutions manual, an exam bank, excel exercises, and PowerPoint slides all of which are available as editable files. The PDFs are available for digital use and can also be printed if desired. The student workbook provides formatted, print-based outlines for all problems contained in the text. Students can print outlines as they need them, and fill in responses manually. Twenty-two Excel-based exercises are linked to the E-Textbook version at the end of each chapter in the "Infinite Practice" section. These are problem-based, cover key concepts in each section, and provide solutions for immediate feedback to students. Each exercise is randomly-generated so that students can practice with new material as many times as desired. A comprehensive, randomly-generated case is also available. This requires the preparation of 18 different year-end adjusting entries and all four types of financial statements, and calculation and analysis of 16 different financial statement ratios. An example is included on this webpage. Unique exercises can be created for any number of individual students or groups upon request to davida@athabascau.ca.
Author: David Annand, Athabasca University
Original source: business.athabascau.ca
Adoption (faculty): Contact us if you are using this textbook in your course
Adaptations: Support for adapting an open textbook
Open Textbooks:

Introduction to Financial Accounting - Third Edition by David Annand, Athabasca University is licensed under a Creative Commons Attribution-NonCommercial-ShareAlike 4.0 International License, except where otherwise noted.
---