Browse the Collection
Please search the collection as a library catalogue or database. For example, to retrieve all results related to sociology, you may want to use sociolog* as this will include books with any ending to the root ~ sociology, sociological, sociologist, and sociologists ~ in the title or description.

A Guide to Making Open Textbooks with Students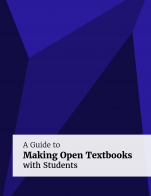 Description: A handbook for faculty interested in practicing open pedagogy by involving students in the making of open textbooks, ancillary materials, or other Open Educational Resources. This guide aims to both inspire and equip more faculty to follow in these open pedagogy pioneers' tracks in making open textbooks with students. This is a first edition, compiled by Rebus Community, and we welcome feedback and ideas to expand the text.
Author: Elizabeth Mays (Editor), Robin DeRosa, Rajiv Jhangiani, Timothy Robbins, David Squires, Julie Ward, Anna Andrzejewski, Samara Burns, Matthew Moore
Original source: press.rebus.community
Adoption (faculty): Contact us if you are using this textbook in your course
Adaptations: Support for adapting an open textbook
Open Textbook(s):
---