Browse the Collection
Please search the collection as a library catalogue or database. For example, to retrieve all results related to sociology, you may want to use sociolog* as this will include books with any ending to the root ~ sociology, sociological, sociologist, and sociologists ~ in the title or description.

Prealgebra: OpenStax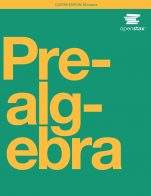 Description: Prealgebra is designed to meet scope and sequence requirements for a one-semester prealgebra course. The text introduces the fundamental concepts of algebra while addressing the needs of students with diverse backgrounds and learning styles. Each topic builds upon previously developed material to demonstrate the cohesiveness and structure of mathematics. Prealgebra follows a nontraditional approach in its presentation of content. The beginning, in particular, is presented as a sequence of small steps so that students gain confidence in their ability to succeed in the course. The order of topics was carefully planned to emphasize the logical progression throughout the course and to facilitate a thorough understanding of each concept. As new ideas are presented, they are explicitly related to previous topics.
Author: Lynn Marecek, Santa Ana College, MaryAnne Anthony-Smith, Formerly of Santa Ana College
Original source: openstax.org
Adoption (faculty): Contact us if you are using this textbook in your course
Adaptations: Support for adapting an open textbook
Open Textbook(s):
---